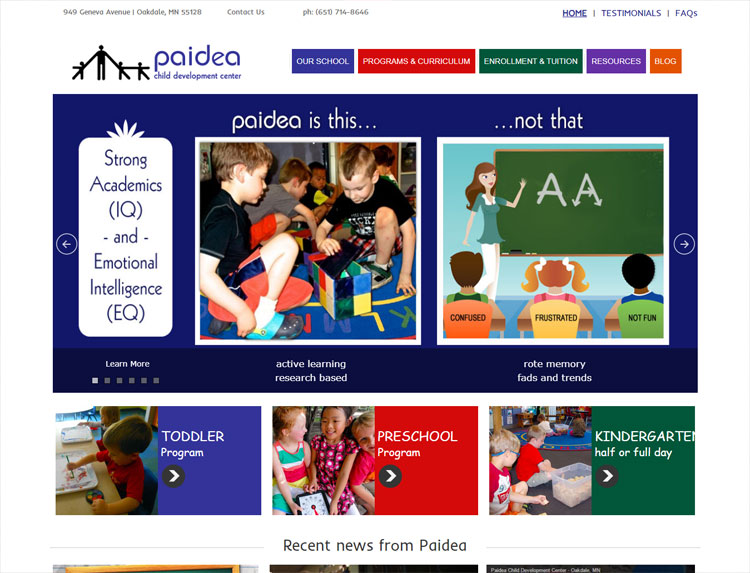 Before: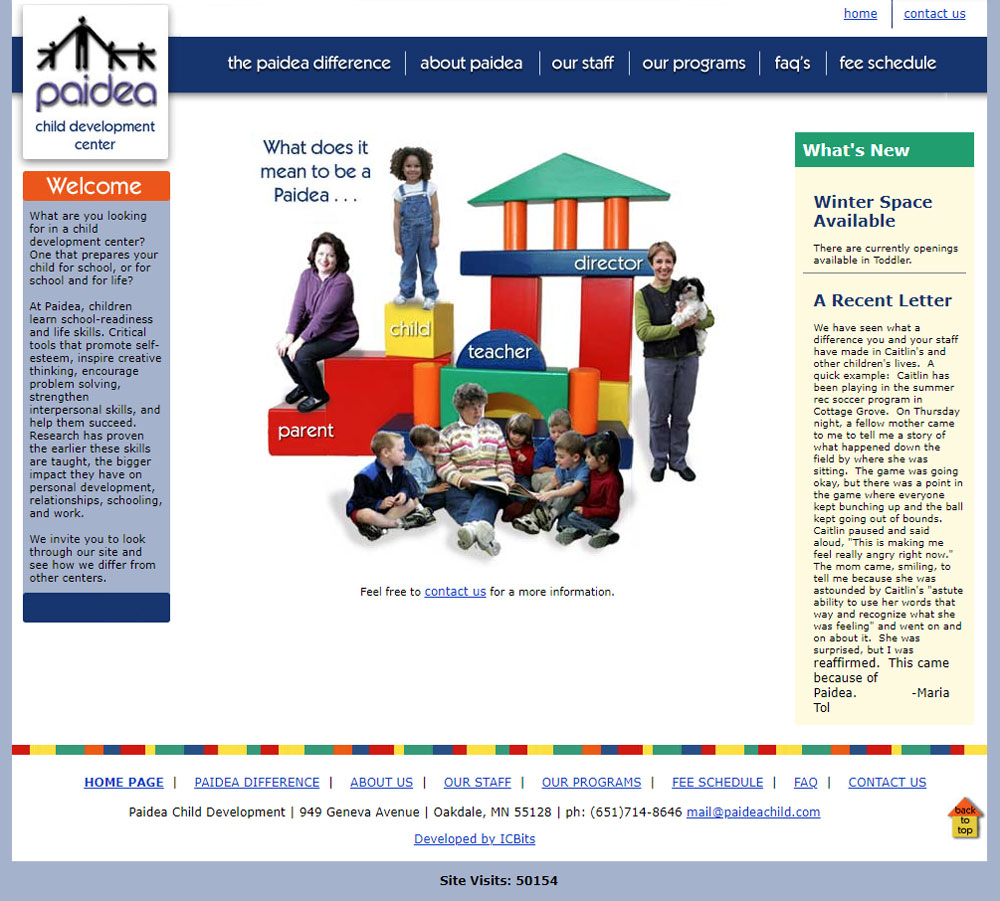 Paidea Child Development Center
Paidea Child Development Center is near and dear to our heart. Not only because Michelle's children attended this incredible center, but because they've been with ICBits since 2005. They even stayed with us when Lynn, their founder/director retired.
Their first website was cute and very different from other centers. When they found their search engine ranking slipping, Michelle showed them how adding new content to their home page along with a simple refresh of their search engine's Meta information would bring them back up.
When it was clear they needed a website refresh, since their website had been built prior to the existence of tablets and smartphones, Lynn expressed her desire to have a website that showed how their center stood out from the rest. It was important that it conveyed why Paidea was different from cookie-cutter centers that looked 'pretty' to parents, but failed in comparison to what was actually important for the growth of children. She came up with the concept of how Paidea is THIS, not THAT...'that' being what is typically found at other centers. This was a challenge as this big concept had to be conveyed simply...our forte! We did this using a rotating image feature front and center! She was thrilled.
With the new website refresh, not only do they have a new, responsive web design, but they have more functionality, the latest CMS tool, and are able to tell their story in a much clearer, concise, visual way.
SERVICES:

ICBits Website / Domain Management / Hosting Services / Email Services
VIEW WEBSITE
What Clients Say
---
[My website] came in right on budget and far exceeded my expectations in every way.

Charlie Slater
- Owner -

I love the 'self-administration' capability that ICBits offers so that I can make changes on my own.

Bonnie O'Meara
- Founder/Owner (retired) -

...she listened to my ideas and at the end had a site up very quickly and I LOVE IT!!!

Rae Plaster
- Owner -

She finds the best option for your business and comes up with creative solutions to accomplish your needs.

Jennifer Ivester
- Owner -

One of her best qualities is the fact that she actually answers her phone! I can count on one hand the times that I've gotten voicemail.

Lisa Silbernagel
- Owner -