Before: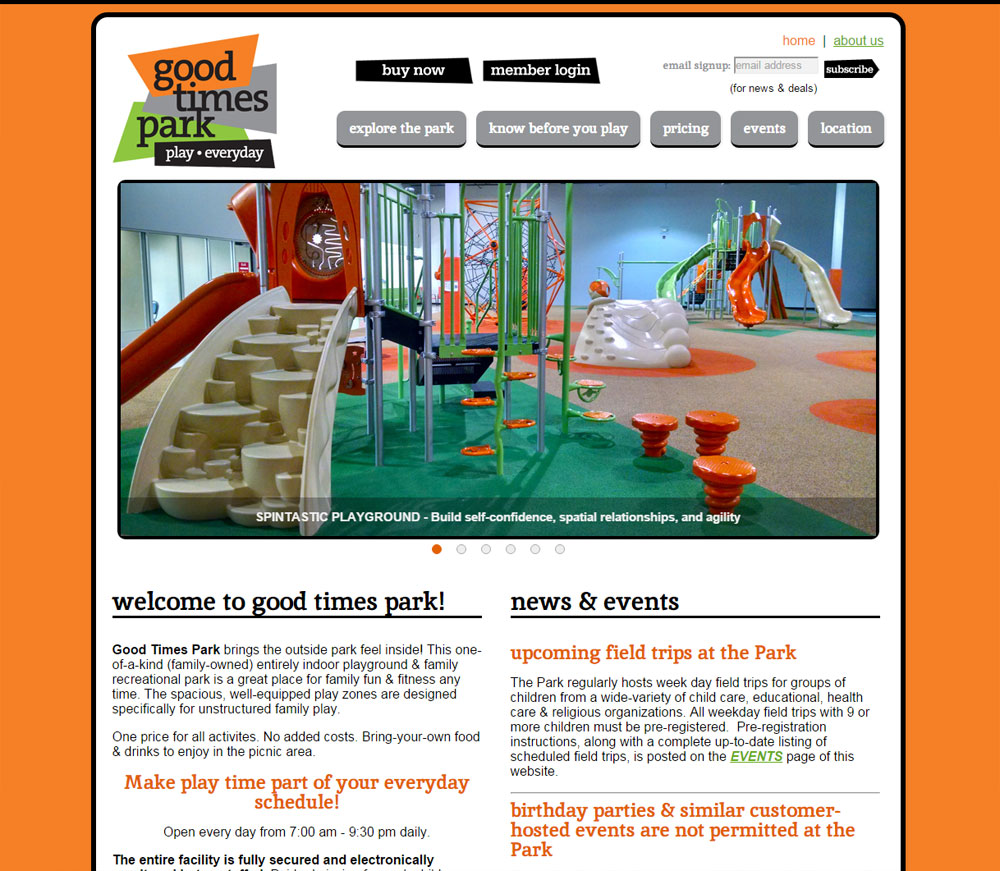 Good Times Park
Looking for a great place to take your little ones? If so, you have to check out Good Times Park. This indoor park is not only perfect for days when the weather isn't optimal for outdoor play, but your child will also find play areas that spawn their creativity and learning.
When Good Times Park first opened, they were looking for a cost-effective website to promote their start-up. At that time, ICBits built their first website using one of our ItsyBits designs. As their business grew, they needed a more robust website with additional functionality and one that needed to be responsive to mobile devices. So ICBits was thrilled to be able to provide them with yet another website.
Good Times Park has been with ICBits since 2013, but honestly, the most interesting part of our journey was to watch other indoor parks open. 'Interesting' as, not only did these parks create websites that were eerily similar to Good Times Park's website, one actually went so far as to copy her color scheme, some of the unique functionality, and her content word-for-word. I guess 'imitation IS the sincerest form of flattery.' Well that or at the a cease and desist letter.

SERVICES:

ICBits Website / Hosting Services
VIEW WEBSITE
What Clients Say
---
[My website] came in right on budget and far exceeded my expectations in every way.

Charlie Slater
- Owner -

I love the 'self-administration' capability that ICBits offers so that I can make changes on my own.

Bonnie O'Meara
- Founder/Owner (retired) -

...she listened to my ideas and at the end had a site up very quickly and I LOVE IT!!!

Rae Plaster
- Owner -

She finds the best option for your business and comes up with creative solutions to accomplish your needs.

Jennifer Ivester
- Owner -

One of her best qualities is the fact that she actually answers her phone! I can count on one hand the times that I've gotten voicemail.

Lisa Silbernagel
- Owner -